---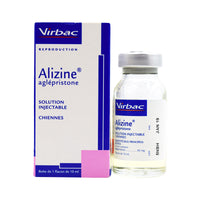 Composition:
Each ml contains: Active substance: Aglepriston 30 mg

Indications:
Pregnant dogs: induction of abortion up to 45 days after mating

Dosage and administration:
It is administered 10 mg aglepriston per kg body weight, equivalent to 0.33 ml of veterinary medicinal product per kg body weight, 2 times, every 24 hours. The weight of the 3 kg 6 kg 9 kg 12 kg 24 kg 30 kg 42 kg The volume of the product 1 ml 2 ml 3 ml 4 ml 8 ml 10 ml 14 ml It is injected only subcutaneously After administration of the medicinal product to dogs, abortion (or resorption) occurs within 7 days.

Contraindications:
Do not use in dogs with disorders of liver or kidney function, in animals with diabetes or in dogs with poor health. Do not use in dogs with hypoadrenocorticism (Addison's disease) or in dogs with a genetic predisposition to hypoadrenocorticism. Do not use in dogs in case of known hypersensitivity to aglepriston or any of the excipients.