---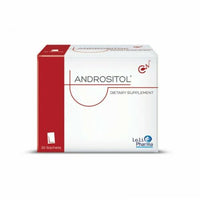 ANDROSITOL has the role of improving the reproductive capacity in men by increasing the quality and functionality of sperm.
Benefits: Restores sperm mobility. Improves the quality and concentration of spermatic fluid in patients with oligospermia.
It reduces the negative impact of environmental factors through the antioxidant action highlighted by reducing the amount of free radicals.
Method of administration: A sachet of powder / day dissolved in a glass of water and drunk at any time of the day.
Composition: Myo-inositol 1000 mg, VitaminE 30 mg, L-Carnitine30 mg, L-Arginine30 mg, Folic Acid 200 μg, Selenium55 μg.
Warnings: It is a dietary supplement and should not replace a varied and balanced diet and a healthy lifestyle. Do not leave out of reach and sight of young children.A do not exceed the recommended dose of daily consumption. Contraindicated in case of phenylketonuria because it contains soy and a source of phenylalanine.