---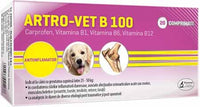 Indications: ARTHRO-VET B 100 tablets is indicated in dogs:
- In the treatment of painful inflammatory conditions, associated with acute osteoarticular or chronic musculoskeletal disorders (periarthritis, bursitis, tendinitis, sprains, dislocations);
- As analgesic in pain of various etiologies post-traumatic and post-operative.

COMPOSITION:
For 1 tablet:
Active substances:
Carprofen ....... 100 mg
Vitamin B1 ...... 50 mg
Vitamin B6 ...... 50 mg
Vitamin B12 ..... 0.1 mg

CONTRAINDICATIONS:
Do not use in dogs with hypersensitivity to the active substances or any of the excipients. Do not use in combination with other steroidal and non-steroidal anti-inflammatory preparations due to the increased risk of allergies. It is not used in cats.

POSOLOGY FOR EACH SPECIES, ROUTE OF ADMINISTRATION AND METHOD OF ADMINISTRATION
It is taken orally at a dose of 1 tablet/25-50kg body weight/day (2–4 mg carprofen/kg body weight per day), divided into two equal doses, every 12 hours, for 7 days. The treatment is continued for another 7 days with a dose of 1/2 tablet/25-50 kg of body weight per day, administered in a single half.
After 14 days, depending on the clinical response and the indication of the veterinarian, the treatment is reassessed.
Treatment can be started with ARTRO-VET B solution for injection and continued with ARTRO-VET B tablets.