---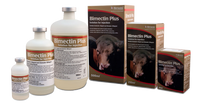 BIMECTIN PLUS 500 ML. - Solution for injection.

COMPOSITION
-1 ml solution for injection contains 10 mg of ivermectin and 100 mg of chlorsulon.

THERAPEUTIC ACTION
Ivermectin acts on the nervous system of parasites (nematodes, mites, arthropods). Initially he paralyzes them, then kills them. Chlorsulon acts on the enzymes involved in the energy production of the gallic worm. The use of the product for therapeutic purposes does not have a similar effect on equivalent systems in cattle. Used in the recommended doses the product has no side effects on the reproductive function in animals intended for breeding.
INDICATIONS
For the treatment of mixed infestations with adult parasites (yellows, intestinal cylindrical worms, lung worms, eye worms and / or infections with Hypoderma, mites or lice) in ruminants. The product is a broad-spectrum endo and ectoparasitecid. A single dose administered is effective against most parasites in ruminants. The product is easy to use.

CONTRAINDICATIONS
This product should not be administered intramuscularly or intravenously.

SIDE EFFECTS
Following subcutaneous administration in some cattle, local inflammatory disorders were observed at the injection site. These reactions disappeared without the need for treatment.
ADMINISTRATION AND DOSAGE
It is administered a single dose of 1 ml / 50 kg of body weight (200μg of ivermectin and 2 mg of chlorsulon / kg of body weight).
OVERDOSE
A dose of 25 ml product / 50 kg of body weight (25 times the recommended dose) can cause lesions at the injection site (inflammation, edema, necrosis, fibrosis). There were no general reactions produced by the overdose of the drug.

WAITING TIME
Meat and offal: 66 days. Milk: do not use in cattle that produce milk for human consumption. Do not use in dairy cows without lactation, nor in pregnant heifers that have less than 60 days until parturition.