---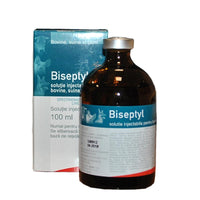 NAME OF THE PRODUCT
BISEPTYL 100ML

Qualitative and quantitative composition
1 ml of the product contains:

Active substance :
Spectinomycin (in the form of sulfate) 100 mg;
Lincomycin (in the form of hydrochloride) 50 mg.
Excipient(s):
Citric acid monohydrate, sodium citrate dihydrate, benzyl alcohol, water for injectable products.

Pharmaceutical form
Solution for injection. Yellow solution, transparent, without particles.

Target species:
Cattle, swine, dogs.
Therapeutic indications:
BISEPTYL is effective in swine, cattle and dog for treating infections produced by sensitive germs:
Bovine: treating respiratory, digestive, uro-genital, osteoarticular (arthritis), cutaneous tract infections, treating umbilical infections, treating infected wounds and abscesses, treating meningitis, peritonitis and septicemias, treating pneumonia, colibacillosis, mastitis, metritis and panaritium.
Swine: treatment of dysentery with Serpulin, colibacillosis, enzootic pneumonia, salmonellosis.
Dog: treatment of tonsillitis and otitis, pneumonias, complications of distemper
prevention of post-operative infectious complications in all target species.
Quantities to
Waiting time
Meat: 14 days before slaughter for human consumption.
Pigs and cattle: meat and offal: 14 days.
Bovine animals: milk from treated animals may not be intended for human consumption.

Period of validity
Shelf life of the veterinary medicinal product as packaged for sale: 3 years.
Shelf life after the first opening of the primary packaging: 28 days.

Conservation
It is kept cool (under 25ºC), away from light. be administered and route of administration
In all target species: 10-20 mg spectinomycin + 5-10 mg lincomycin / kg body weight (equivalent to 1 ml BISEPTYL for every 5-10 kg body weight) intramuscularly every 12 hours for 4-7 days. In order to administer the correct dose, the live weight must be determined as precisely as possible to prevent underdosing.

Overdose
By administering a dose 3 times higher than the therapeutic dose, only a local irritation is usually caused.