---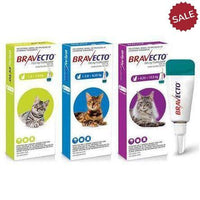 Bravecto 112.5 mg spot-on solution for cats
Fiecare pipeta furnizeaza: Pipeta contine (ml)

Fluralaner

(mg)

pentru pisici mici (1.2-2.8 kg)

0.4

112.5

pentru pisici de talie medie (>2.8 – 6.25 kg)

0.89

250

pentru pisici de talie mare (>6.25 - 12.5 kg)

1.79

500
Method of administration:

Step 1: Immediately before use, open the envelope and remove the pipette. The pipette must be held against the base or the rigid upper portion below the lid upright (tip up) for its opening. The lid must be rotated clockwise or counterclockwise for a full turn. The lid will remain on the pipette; detachment is not possible. The pipette is open and ready for application when the breach of seal is felt.

Step 2: The cat should stand or lie down with its back horizontally during application. Place the tip of the pipette on the base of the cat's skull.

Step 3: Squeeze the pipette gently and apply the entire contents directly to the cat's skin. The product should be applied to cats up to 6.25 kg at a single point at the base of the skull and at two points on cats larger than 6.25 kg of body weight.
it should be taken at intervals of 12 weeks.