---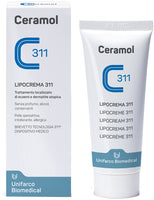 Properties:
- Lipocream from Ceramol 311 is indicated in the localized treatment of eczema and atopic dermatitis;
- no perfume, essential oils, preservatives, alcohol;
- hyper-reactive, intolerant, allergic skin;
- is a Medical Device indicated for the treatment of areas affected by atopic dermatitis, contact dermatitis and other forms of eczematous dermatitis;
- promotes natural restructuring and rearrangement of lipids in the superficial layers of the epidermis, restoration of the cutaneous barrier;
Creates a barrier that reduces contact and friction with fabrics and irritants.
It is especially suitable for very dry and reddened skin areas and in cases where the application of creams creates a transient itching;
- is an emulsion with a water-in-oil formula (A/O) with high adhesion and persistence;- patented 3:1:1 technology ideal proportion of functional epidermal lipids (3 parts ceramides 3, 1 part cholesterol, 1 part fatty acids), naturally present in the stratum corneum of the human epidermis, which create a protective barrier and are able to contribute to restoring skin balance;
- lipid ingredients perform an emollient protective action against external aggressions.

How to use:
It is applied 1 or 2 times a day depending on the degree of dryness.
Massage gently until completely absorbed.
Use for at least two weeks until symptoms of itching and dryness improve.
Suitable for the elderly, adults and children in the first months of life.