---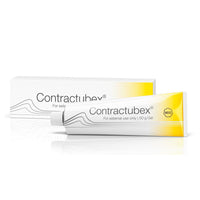 Indications:
Contractubex is used to treat various types of scars after the lesions have healed.
Contractubex works to stop the proliferation of scar tissue and has a flattening and decontracting effect on this tissue. It also reduces redness, heat, inflammation and pain (anti-inflammatory).

Contractubex is indicated for patients with scars that limit movements, hypertrophic scars, keloids (scars that are thickened, raised and sometimes colored differently from the surrounding skin), post-operative disfiguring scars, after amputations, burns and accidents; contractures such as Dupuytrene's contracture (contracture of the hand) and traumatic contractures of tendons as well as atrophic scars (scars that form depressions or creases of the skin).
Contraindications:
Do not use Contractubex:
- if you are allergic (hypersensitive) to Extr. Cepae, heparin sodium, allantoin, to sorbic acid or parabens ( methyl-4-hydroxybenzoate) or to any of the other ingredients of Contractubex.

Pregnancy, lactation and fertility:
Ask your doctor or pharmacist for advice before taking any medicine.
The risks during pregnancy and lactation are not known so far.

Driving and using machines:
Contractubex has no influence on the ability to drive and use machines. Dosage:
Always use this medicine exactly as described in this leaflet or as your doctor or pharmacist or nurse has told you. Check with your doctor or pharmacist or nurse if you are not sure.

Gently massage Contractubex on the area of scar tissue until the gel is completely absorbed.
If the scars are hard and old, Contractubex is left to act overnight under a bandage.
Depending on the size of the scar and the contracture, treatment will be needed for several weeks or several months.
When treating recent scars, physical irritants such as strong cold, UV radiation or energetic massage should be avoided.

Always use Contractubex as prescribed by your doctor.
You should check with your doctor or pharmacist if you are not sure.