---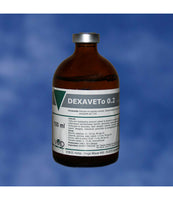 Manufacturer: VMD
DCI: Dexamethasone
Indications: Stress, shock and allergic reactions. Inflammatory joint lesions, arthritis, bursitis,
Description:

Composition
On 1 ml of solution: 2 mg dexamethasone base (as sodium phosphate)
Action:
Dexamethasone is a synthetic glucocorticosteroid with a powerful anti-inflammatory, antiallergic, anti-stress and gluconeogenetic action in horses, dogs and cats.Indications
Stress, shock and allergic reactions. Inflammatory joint damage, arthritis, bursitis, and laminitis. Eczema, atypical skin inflammation reactions, asthma, and partus induction.
Indications contraindications:
Administration during viral infections, osteoporosis, heart, kidneys, or liver disorders, late gestation, nursing animals, diabetes mellitus.
Side Effects:
Decrease in milk production
If used for a long time, decreased resistance against infections, delayed wound healing, muscle atrophy, myopathy or osteoporosis may occur.
Indications contraindications, warnings, etc.,
Contraindications: Unless in emergency situations, the product should not be used in animals suffering from diabetes, chronic nephritis, kidney disease, congestive heart failure, osteoporosis and in viral infections during the viremia stage.Dosage and administration: Only for the treatment of animals. Shake well before use.
For intramuscular, intravenous or intra-articular administration:
Horses:
5 - 15 ml (IM or IV)
Dogs, cats : 0.25-1 ml (IM or IV)
Local therapy: 1-5 ml (intra-articular)
For small animals: periaticular injection
Incompatibility:
Do not administer together with antihistamines and barbiturates (these agents stimulate the degradation of dexamethasone in the liver). Action of dexamethasone and diminishes the period of action of barbiturates is shortened.
Storage:
It is left out of reach of children. Cold store (between 2 and 15 º C +) and protected from light.
After withdrawal from the first dose, use the product within 28 days. Throw away unused materials.