---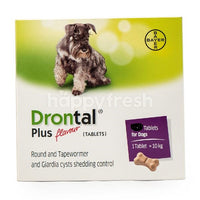 Composition:
1 Tablet Drontal Flavour contains:

- 50 mg PRAZIQUANTEL
- 144 mg PYRANTELEMBONAT
- 150 mg FEBANTEL
Indications:
To treat dogs infested with the following species of parasites:

Toxocara canis,Toxascaris leonina;
Uncinasia stenocephala, Ancylostoma caninum;
Trichuris foxes;
Echinococcus granulosus, Echinococcus multilocularis, Dipylidium caninum,Taenia sp, Multiceps multiceps,
Mesocestoides sp.
Contraindications and side effects:
They're not known.

Dosage and administration:
Unique dose : 1 tablet for 10 kg live weight.
Tablets are administered directly or incorporated into the animal's food. Diet is not necessary.
The product is administered in one half (without repeating in the following days).
In case of diagnosis of intestinal parasitosis, treatment will be applied immediately.
It is recommended to repeat the quarterly treatment.

Precautionary measures:

the dose should be observed in pregnant.
do not use the preparation with the shelf life exceeded (indicated on the packaging).
not to be used in animals intended for human consumption (pigs, cattle, etc.).
Presentation:
Box with 6 tablets.
DO NOT LEAVE TO THE INDEMAN OF CHILDREN!