---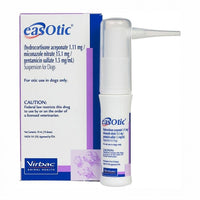 Composition:
Hydrocortisone aceponate 1,11 mg/ ml Miconazole in the form of nitrate 15,1 mg / ml Gentamicin in the form of sulfate 1505 IU / ml

Indications:
Treatment of acute external otitis and acute exacerbations of external recurrent otitis associated with bacteria susceptible to gentamicin and with fungi susceptible to miconazole, especially Malassezia pachydermatis.

Dosage and administration:
Auricular administration. One ml contains 1.11 mg of hydrocortisone aceponate, 15.1 mg of miconazole (in the form of nitrate) and 1505 IU of gentamicin (in the form of sulfate). Shake the bottle thoroughly before the first administration and load the spray pump. The recommended dose is 1 ml of the veterinary medicinal product for one infected ear once a day for 5 consecutive days. Insert the atraumatic cannula into the auricular canal. Administer a dose (1 ml) of the product in each affected ear. This dose is properly released by a single press of the pump.
Species:
Dogs

Presentation:
Bottle 10 ml