---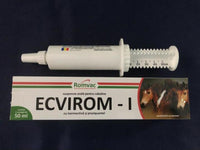 NAME OF THE PRODUCT
ECVIROM 50 ML
Syringe with oral suspension for anthelmintic horses and broad spectrum endectocide.

COMPOSITION:
-Praziquantel........................ 1.25g.

-Ivermectin......................................0,1g.

-Excipient (carboxymethylcellulose, benzoic acid, formal glycerol, ethyl alcohol and distilled water) ad...... 50ml.

TARGET SPECIES:
Horses.
Indications:
Ecvirom I is recommended to combat endo and ectoparasites in horses starting with the age of 6-8 weeks as follows:
Trematodoses: Fasciolosis: Cestodoses: Anoplocephalosis; Nematodoses; Parascaridiosis (Ascaridiosis), Trichostrongilidosis, Habronemosis, Strongyloidosis, Oxyurosis, Gongilonemosis, Dictycaulose, Onchocercose (cervical and tendon), Trichinosis; Arachnoses: Visceral linguatulosis and horse heavens; Entomosis:Gastrophilosis: Hypodermatosis. It can be administered in gestation and lactation only with the recommendation of the veterinarian.

CONTRAINDICATIONS AND PRECAUTIONS:
The live weight of the animals will be correctly estimated in order to avoid underdosing and overdosing.

ADVERSE REACTIONS:
They weren't found. If certain reactions occur, inform your veterinarian.


METHOD OF ADMINISTRATION AND DOSES FOR EACH SPECIES:
The administration is made orally with the syringe, by positioning the dosing ring at the level of the marking, corresponding to the weight of the animal, after which the tip of the syringe is inserted at the lip commissure and the piston is pushed. The dose is 10 ml / 100 kg of body weight, both for adults and for foals in a single outlet.