---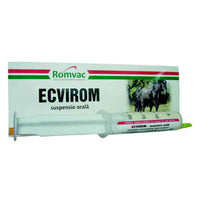 NAME OF THE PRODUCT
ECVIROM – Oral suspension, external and internal antiparasitics with wide spectrum,
for recreational equines.

DECLARATION (SUBSTANCE) OF ACTIVE SUBSTANCES AND OTHER INGREDIENTS (INGREDIENTS)
-Albendazole-1,4g;
- Avermectin B1-0,04g;
-Excipient (carboxylmethylcellulose, benzoic acid, Tween 80, ethyl alcohol and distilled water) ad-20ml.

INDICATIONS:
ECVIROM is recommended preventively in the fight against endo and ectoparasites in horses, as follows: Trematodes: Fasciolosis; Cestodoses: Anoplocyphalosis; Nematodes: Parascaridosis (Ascaridosis), Trichostrongilidosis, Habronemosis, Strongyloidosis, Oxyurosis, Gongilonemosis, Dictycaulose, Onchocercose (cervical and tendon), Trichinosis; Arachnoses; Visceral linguatulosis and horse heavens; Entomosis: Gastrophilosis; Hypodermatosis.
Method of administration, doses for each species and recommendations regarding the correct administration:
It is administered 10ml / 100Kg, live weight, at the level of the syringe commissure, in a single dose.
Foals should be treated initially, from the age of 6-8 weeks. It is recommended to carry out quarterly deworming. The indicated treatment schedules and doses will be observed.

WAITING TIME:
This is not the case.