---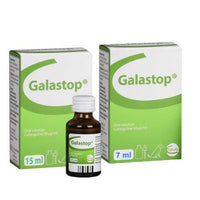 Galastop - 24ml

Indications: Treatment of false gestation in the catele, suppression of lactation in the casates and suppression of lactation in cats.

Contraindications:

· Do not use in dogs and cats at an advanced stage of gestation, because cabergoline causes abortion.

· Do not use immediately after surgery when the animal is still under the influence of anesthetics.Side effects: In some animals a slight state of drowsiness may be observed after the first 2 days of treatment. After the first 2 doses, in a small proportion of cases you may encounter vomiting and anorexia. It is not the case that the treatment is interrupted until the vomit is severe or persists after several doses. If you notice serious reactions or other effects that are not mentioned in this leaflet, please inform your veterinarian.

Target species: Cat and cats

Method of administration: The recommended dosage for both dogs and cats is 0.1 ml GALASTOP / kg of body weight /(equivalent to 5 μg cabergoline / kg of body weight) once a day for 4-6 consecutive days depending on the clinical condition of the animal. Route of oral administration as such or mixing in food Recommendations for correct administration: For and cats weighing up to 5 kg it is advisable to measure the dosage in drops, 3 drops is the equivalent of 0.1 ml. If the clinical signs do not resell after a single course of treatment or return after its end, it is recommended to repeat it. Waiting time: Not applicable

Special precautions for storage: Keep out of reach of children. Store in a dry place away from light, at a temperature below 250C. Do not refrigerate. Do not use after the expiry date marked on the package.
Cabergoline is a derivative of Ergoline, with a strong, selective and long-lasting inhibitory effect on the secretion of prolactin. Prolactin is a key hormone for lactogenesis and for initiating and maintaining lactation after calving. In addition, the etiology of false pregnancy is currently considered to be mediated by prolactin levels and stimulated by the increase in the level of progesterone that falls within the time of methotestasis.

Inhibition of prolactin secretion by results, cabergoline in a rapid resolution of false pregnancy signs, including breastfeeding and behavioral changes.

Suppression of lactation in may be necessary under certain clinical conditions (for example, after the elimination of puppies shortly after calving, or after early weaning). Inhibition of prolactin secretion by Galastop results ® in a rapid cessation of lactation and a reduction in the size of the mammary glands.