---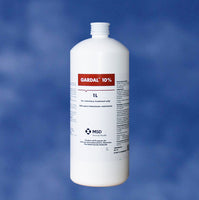 2. NAME OF THE VETERINARY MEDICINAL PRODUCT

Gardal 10%, oral suspension for cattle and sheep
Albendazole sulfoxide

3. DECLARATION (SUBSTANCE) OF ACTIVE SUBSTANCES AND OTHER INGREDIENTS (INGREDIENTS)

1 ml suspension contains:

Active substance:

Albendazole sulfoxide 100 mg

Excipients:

Benzoic acid 1.8 mg
Potassium sorbate 1.5 mg

4 INDICATION (INDICATIONS)

In the treatment and control of infestations caused by gastrointestinal nematodes and cestodes, long worms, as well as liver infestations due to trematodes in sheep and cattle. Gardal has ovicid action in fasciolosis.

5. CONTRAINDICATIONS

It doesn't exist.

6. ADVERSE REACTIONS

They don't know each other.
If you notice any serious reactions or other effects not mentioned in this leaflet, please inform your veterinarian.

7. TARGET SPECIES

Cattle and sheep

8. POSOLOGY FOR EVERY SPECIOn, CALE (WAYS) OF ADMINISTRATION AND MODE OF ADMINISTRATION

The routine dose of treatment against gastrointestinal nematodes, cestodes and respiratory infestations (Dictyocaulus) is 3.8 – 7.5 mg albendazole sulfoxide / kg body weight (GC), corresponding to 1.5 – 3 ml / 40 kg GC.
For the treatment of respiratory infestations (Muellerius, Protostrongylus) or fasciolosis (trematode) the standard dose is 7.5 – 10 mg albendazole sulfoxide / kg body weight (GC), corresponding to 3 – 4 ml / 40 kg GC.

Parasites Gardal 10% Administration Mode
Gastrointestinal nematodes and cestodes.
Respiratory infections (Dictyocaulus) 1.5 – 3 ml/40 kg Oral
Respiratory infections (Muellerius, Protostrongylus)
Fasciolosis 3 –4 ml/40 kg Oral
9. RECOMMENDATIONS ON CORRECT ADMINISTRATION

The suspension should be shaken thoroughly before use and used without dilution.
It can be administered with any standard dosing apparatus or administration equipment.

10. WAITING TIME

Meat and organs: 8 days (sheep); 21 days (cow)
Milk: 3 days (6 milkers).

11. SPECIAL PRECAUTIONS FOR DEPOSITION

Keep out of the reach of children.
Do not store at a temperature above 25 °C.
Protect yourself from the light.
Do not use after the expiration date marked on the label.