---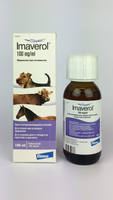 Imaverol 10% - external antimycotic for the treatment of dermatomycosis in dogs, horses and cattle

Composition:

Active ingredients : enilkonazole 100 mg / ml
Vehicle ingredients : polysorbate 20, sorbitan laureate q.s. ad 1 ml

Indications:

Imaverol is indicated in horses, cattle and dogs, in dermatomycosis (trichophytia, microspororia) produced by: Trychophyton verrucosum, Trychophyton mentagrophytes, Trychophyton equinus, Microsporum canis, Microsporum gypseum.

Method of administration:

dilute in 50 parts warm water, obtaining an emulsion 2%, with which the treatment is applied as follows:

- In horses, wash the lesions and the neighboring area 4 times with emulsion, at intervals of 3-4 days;
- in cattle, they will be treated 3-4 times at intervals of 3-4 days, by washing with emulsion or by spraying the emulsion with a high-pressure apparatus, an amount of 0.5 - 1 liter of 2% diluted solution is required;
- In the dog, wash the lesions with the emulsion 2%, 3-4 times, every 3-4 days.
During washing the hair should be rubbed very well in the opposite direction of growth, so that you can moisten the skin well, you can even trim the hair too long. Any crusts can be removed with a rough brush, their softening is obtained with a detergent or even with the solution.

Imaverol is very well tolerated is not corrosive nor toxic to pregnant animals.