---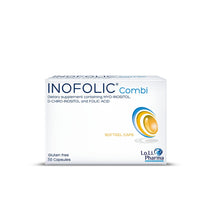 Inofolic Combi is a dietary supplement that contains myo-inositol, D-chiro-inositol and folic acid, which helps maintain the necessary substances in case of reduced food intake or in case of increasing the necessary in the body.
Benefits: Inofolic Combi may prove useful as a coadjuvant for maintaining the necessary myo-inositol, d-chiro-inositol and folic acid in overweight women (BMI > 25), during the treatment of the following conditions:
- Polycystic Ovarian Syndrome
- insulin resistance conditions
- Coadjuvant in the protocols of controlled ovarian hyperstimulation.
Method of administration: It is recommended to take 1 or 2 capsules per day, every 12 hours.
Composition: Myo-inositol 110mg, D-chiro inositol 27.6 mg, Folic acid 400μg.
Presentation: 30 softgels