---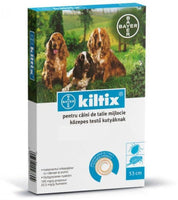 COMPOSITION:

Each collar contains 3 02 g propoxur and 0 68 g flumethrin.

INDICATIONS:

Protection of animals by fighting fleas and ticks (Ctenocephalides canis / felis) in dogs.

The effectiveness against fleas and ticks is up to 7 months under the conditions of its permanent wearing.

DOSE:

Medium-sized dogs: - collar up to 53 cm long

METHOD OF USE

Remove the collar from the protective packaging and remove the plastic debris from the inside. Attach the collar loosely around the neck and the remaining free end is passed through the ring.CONTRAINDICATIONS:

do not use in animals with skin lesions

do not use in sick or convalescent animals

do not use in pregnant animals

do not use in puppies under the age of 3 months

ADVERSE REACTIONS

Occasionally a slight itching may occur in the neck area that disappears within a few days.

PRESENTATION:

Box x 1 collar.