---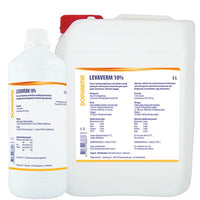 Qualitative and quantitative composition

1 ml product contains:

Active substance:

Lemamisol in the form of hydrochloride 100 mg

Excipient (excipients):

Anhydrous citric acid, methyl parahydroxybenzoate, propylene glycol, sodium metabisulphite, sodium hydroxide and purified water

Pharmaceutical form

Solution for oral, clear, colourless administration.

Target species:

Cattle, sheep, pigs and birds.

Pharmacological properties:

Pharmacodynamic properties

Devamisol is a broad-spectrum antihelmintic. It has a mode of action comparable to that of nicotine and can therefore cause an increase in blood pressure and an increase in intestinal motility. Lemamisol has a ganglion stimulation effect (choline - mimetic) and as a result appear tonic muscle contractions, the parasite is paralyzed and eliminated. Devamisol is active on the adult stages of Ascaris and on the larval and adult stages of pulmonary parasites.

Pharmacokinetic peculiarities

After oral administration, levamisol is rapidly absorbed, with high plasma concentrations that can be reached after 1-2 hours. Devamisol is distributed throughout the body and is converted into less active metabolites in the liver.

In the first 12 hours after administration, levamisol is excreted approx. 40% through urine and thereafter in the first 8 days approx. 40% is excreted through faeces.

Indications for use, specifying target species

Lavaverm 10% is indicated in mammals in the control of:

pulmonary parasites: Dictyocaulus spp, Metastrongylus spp and Protostrongylus spp.

gastrointestinal nematodes: Haemonchus spp, Trichostrongylus spp, Ostertagia spp, Cooperia spp, Bunostomum spp, Nemalodirus spp, Oesophagostomum spp, Strongyloides spp, Chabertia spp, Toxocara vitelorum, Hyostrongtylus spp, Trichuris spp and Ascaris spp.

In birds, levamisol is indicated in the control of infections caused by the larvax and adult stages of Amidostomum anserus, Ascaridia spp, Heterakis gallinarium, Capillaria spp and Syngamus trachea.

Contraindications

Do not use in animals with severe liver or kidney disease.

Do not use in animals with pre-existing blood disorders.

Special warnings

It doesn't exist.

Special precautions for use

Special precautions for use in animals

That's not the case.

Special precautions to be taken by the person administering the product to animals

If the product is well closed and packaged, normally neither veterinarians nor farmers come into direct contact with the medicinal product; so normal precautions for. handling of medicines is sufficient. The effect of the drug should always be taken into account, therefore the use of gloves is recommended.

Side effects (frequency and severity)

Oral foaming or salivation may be observed. This reaction is observed occasionally and will disappear a few hours after administration.

Animals with serious lung parasite disorders may react with coughing and vomiting. These temporary symptoms are caused by the migration of parasites from the pulmones and last for several hours.

Use during gestation, lactation or laying period

No adverse reactions were mentioned with the use of 10% Leverum during gestation and lactation.

Devamisol shall not be used in milk-producing animals or in birds producing eggs for human consumption.

Interactions with other medicinal products or other forms of interaction

Concomitant administration of rivamisol with organophosphoric insecticides may occasionally cause toxic reactions.

Quantities to be administered and route of administration

Bovine animals, sheep and swine:

1 ml / 10 kg body weight or 1 liter / 1000 liters drinking water, administered once

Birds:

1-1.5 liters / 1000 liters drinking water, administered once

Route of administration: is given orally in drinking water.

Overdose (symptoms, emergency procedures, antidotes), as appropriate

The therapeutic index of rivamisol is 2.5 to 12 times the prescribed dose.

Waiting time

Cattle and sheep: 15 days; Pigs: 11 days; Birds: 3 days

Do not use in animals producing milk for human consumption. Do not use in birds producing eggs for human consumption.

Shelf life

Shelf life of the veterinary medicinal product as packaged for sale: 12 months.

Shelf life after the first opening of the primary packaging: 3 months. Shelf life after reconstitution in drinking water: 24 hours.

Special precautions for storage

Store at a temperature below 25°C, do not freeze. Keep the vial tightly closed.

Nature and composition of primary packaging

1 litre polyethylene bottle.

Five-litre bottle.