---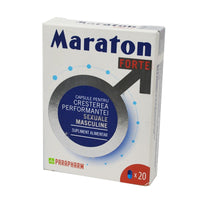 Properties:
The effect of this nutritional supplement will be felt from the first administration, so there is no need for curative use, but with repeated administrations you can get significantly superior effects over time.
This 100% natural product is based on a combination of Asian and South American herbs known for their ability to increase male sexual performance. 
The special effectiveness and immediate effect of this product lies in the use of superconcentrates from these plants which have been obtained with state-of-the-art extraction technologies.
Contraindications:
The product is contraindicated in people with severe heart disease and in general and in general when physical exertion is contraindicated.
Method of administration:
Occasional consumption of 2 capsules / day is recommended, in a single dose with plenty of fluid (mineral water, fruit juice), approximately 2 hours before intercourse.
The dose may be doubled but it is not recommended to exceed the amount of 4 capsules / 24 hours, as this does not have any additional effect.
Presentation: 4 & 20 capsules