---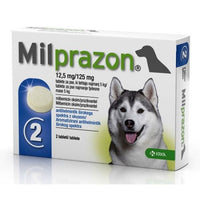 Milprazon Dog 12.5 / 125 mg (> 5 kg), 2 tablets are tablets for small dogs and puppies weighing at least 5 kg indicated for the treatment of mixed infestations caused by adult cestodes and nematodes.

NAME OF THE VETERINARY MEDICINAL PRODUCT

Milprazon 12,5 mg/125 mg tablets for dogs weighing at least 5 kg
QUALITATIVE AND QUANTITATIVE COMPOSITION

Each tablet contains:

Active substances: Milbemycin oxime 12.5 mg, Praziquantel 125.0 mg
PHARMACEUTICAL FORM

Compressed. Round tablets, slightly biconvex, white-yellowish in color, with brown spots.
CLINICAL PARTICULARITIES

Target species:

Dogs (weighing at least 5 kg).
Indications for use, specifying the target species:


Cestodes: Dipylidium caninum, Taenia spp., Echinococcus spp., Mesocestoides spp.
Nematodes: Ancylostoma caninum, Toxocara canis, Toxascaris leonina, Trichuris vulpis, Crenosoma vulpis (reducing the level of infestation), Angiostrongylus vasorum (reducing the level of parasite infestation in the stage of immature adult (L5) and adult, Thelazia callipaeda.
The product can also be used in the prevention of cardiac filariosis (Dirofilaria immitis), if a concomitant treatment against cestodes is indicated.
Contraindications:

Do not use in dogs with body weight below 5 kg.
Do not use in case of hypersensitivity to the active substances or to any of the excipients.