---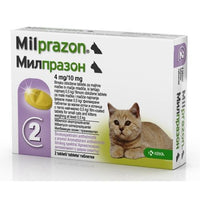 Milprazon Cat 4 / 10 mg (< 2 kg), 48 tablets are film-coated tablets for small kittens and kittens with a body weight of at least 0.5 kg for the treatment of mixed infestations caused by immature and adult cestodes and nematodes of the following species:
Cestodes:

Dipylidium caninum
Taenia spp.
Echinococcus multilociilciris
Nematodes:

Ancylostonui tubaeforme
Toxocara cati
Each tablet contains:
Active substances:

Milbemycin oxime 4 mg
Praziquantel 10 mg
Film-coated tablets of red-brown, oval, biconvex color, marked with a line on one side. Tablets can be divided into equal halves.
TARGET SPECIES

Cats (small kittens and kittens)
METHOD OF ADMINISTRATION

Oral.
To ensure proper dosage, it is recommended to weigh cats.
Minimum recommended dose: 2 mg milbemycin oxime and 5 mg praziquantel per kg body weight, once a day, in oral administration.
Depending on the body weight of the cat, the recommended dose is as follows:

The weight of the animal

Tablets

0.5 – 1 kg

0.5 tablet per day

1 – 2 kg

1 tablet per day