---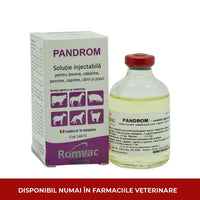 ACTIVE SUBSTANCES

Ampicillin trihydrate 50mg, Neomycin sulfate 75mg, Procaine hydrochloride 5mg, Dexamethasone sodium phosphate 0.1mg.

Excipients:

Nipagin 1.8 mg, Nipasol 0.2 mg.

INDICATIONS

In the treatment of primary or secondary infections, digestive, respiratory, renal, genital or surgical produced by microorganisms sensitive to ampicillin and neomycin, in cattle, horses, goats, pigs, dogs and cats.

CONTRAINDICATIONS

Do not use in animals with known hypersensitivity to the active substances or to any of the excipients.ADVERSE REACTIONS

In some animals it can produce a transient anemia.

If you notice any serious reactions or other effects not mentioned in this leaflet, please inform your veterinarian.

TARGET SPECIES

Cattle, horses, pigs, goats, dogs and cats.

DOSAGE, ROUTES AND METHOD OF ADMINISTRATION

It is injected deep intramuscularly, at a dose of 1ml/10 kg body weight, repeated every 24 hours, for 2-3 days. Avoid administration of the product at the same injection site. Precautions regarding the administration of the product under aseptic conditions shall be observed. To ensure proper dosing, the body weight of the animals must be accurately determined, wherever possible, in order to avoid underdosing.

RECOMMENDATIONS FOR PROPER ADMINISTRATION

Follow the recommended doses.
WAITING TIME

Bovine, equine, caprine and porcine animals:

Meat and offal: 28 days.
Milk: 7 days.
SPECIAL STORAGE PRECAUTIONS

Keep out of the reach of children.

Store below 25 °C in the original package.

Do not use after the expiry date stated on the label

Shelf life after the first opening of the primary package: 7 days.