---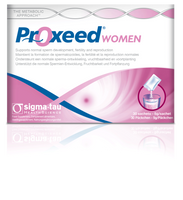 Proxeed dietary supplement for women who want to get pregnant.

Ingredients: L-carnitine, acetyl-L-carnitine, L-arginine, N-acetyl cysteine, vitamins and minerals that help increase female fertility.

Contains: 30 envelopes in a package.

Administration: Dissolve 1 sachet / day in a glass with 120 ml orange juice or water. It is recommended a cure of 4-6 months or for the entire duration of conception. Proxeed Women is administered immediately after sexual intercourse.

Why is a cure needed for 4-6 months?

In a package there are only 30 envelopes for a month. Doctors recommend Proxeed Women for a period of 4-6 months, because the egg needs 3-4 months to reach maturity. After this period of 3-4 months, the egg will be released and ready for fertilization.