---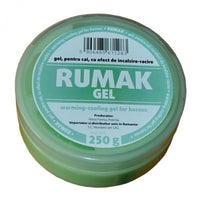 RUMAK GEL with heating-cooling effect is a product that contains natural ingredients, very effective in case of recent trauma to muscles, tendons and joints in horses. The gel successfully treats bruising, sprains, dislocations, and even rheumatic pains. It can also be used after intense training. The gel regenerates and relaxes the muscles, tendons and ligaments.

Ingredients: wild chestnut extract, menthol, camphor.

Wild chestnut extract stimulates local circulation, tones and repairs damaged veins and capillaries, fluidizes blood flow, soothes pain caused by varicose ulcers, frostbite, fractures and sprains.

Camphor has antirheumatic, antifebrile, antinevralgic, anti-inflammatory effect.

Menthol has a refreshing effect on the regions on which it is applied, soothing, antiseptic, anti-inflammatory and antipruritic.

How to use: the gel is gently massaged until it enters the skin, at the level of the affected area.