---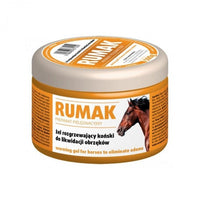 RUMAK Gel with heating effect

Composition: essential oil from hot pepper, turpentine oil, eucalyptus oil, wild chestnut extract, camphor, excipients.

Indications: the gel is applied as a poultice to accelerate heating and tissue regeneration. It is also applied to reduce inflammation in the case of non-bacterial swelling of the muscles, tendons and joints.

Hot pepper essential oil: accelerates blood circulation and causes venules to dilate locally. It has antirheumatic and antinevralgic effect (especially in the case of diseases that worsen at the firg and moisture), hyperthermic and rubefiant.

Turpentine oil: rubefiant.

Eucalyptus oil: antirheumatic, anti-inflammatory.

Wild chestnut extract: stimulates local circulation. It has a beneficial effect on the circulatory system; tones and repairs the injured veins and capillaries; fluidizes blood flow; soothes the pains caused by varicose ulcers, frostbite, fractures and  Sprains.


Camphor: antirheumatic, antifebrile, antinevralgic, anti-inflammatory.

Method of administration: the product is applied to clean hair and skin. The gel is massaged until it passes the animal's hair in order to have the best possible contact with the animal's skin and, if possible, a bandage is applied.

Waiting time: this is not the case.