---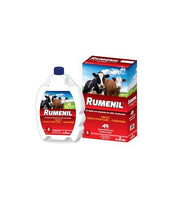 NAME OF THE PRODUCT
RUMENYL 34 MG/ML

NAME OF THE VETERINARY MEDICINAL PRODUCT

Rumenyl 34 mg/ml oral suspension for cattle.

QUALITATIVE AND QUANTITATIVE COMPOSITION

Each ml contains:

Active substance:
Oxyclozanide 34.0 mg

Excipients:
Methyl parahydroxybenzoate (E218) 2.0 mg

Propyl parahydroxybenzoate 0.2 mg.

PHARMACEUTICAL FORM:
Oral suspension,
Suspension uniform smooth, dark white to yellow color.

Target species:
Cattle.lndicatii for use, with the specification of the target species:
Treatment of chronic fascioloses caused by the adult stage of hepatic fasciola, sensitive to oxyclozanide. Elimination of segments of tapeworms (Moniezia spp).

Contraindications:
Do not use in case of hypersensitivity to the active substance or to any of the excipients.

Special warnings for each target species:
At a normal dosage level, oxyclozanide is not active against immature trematodes present in the liver tissue. In dairy cows, with a high yield, a reduction in yield may occur, occasionally of 5% or more, for about 48 hours after administration. The effect of this small loss can be minimized by administering doses in the livestock, for a period of about a week.Quantities to be administered and route of administration:
Oral administration. Shake before use.
To ensure the administration of a correct dose, body weight should be determined as accurately as possible;
The accuracy of the dosing device must be checked. If animals are to be treated collectively, rather than individually, they must be grouped according to body weight and dosed accordingly, in order to avoid underdosing or overdosing.

Dose depending on body weight at a dose of 10 mg oxyclozanide per kg weight corporaIa (cattle).
Cattle: 3 ml per 10 kg body weight;

For example:
Dosage per body weight:

50 kg 15 ml

100 kg 30 ml

150 kg 45 ml

200 kg 60 ml

250 kg 75 ml

300 kg 90 ml

350 kg and over 105 ml.