---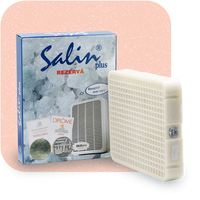 One box contains 1 special filter for saline air treatment.
With the forced passage of air through it, this filter exudes microparticles of salt beneficial to the body.
To maintain the effectiveness of the SALIN Plus apparatus it is recommended to replace the reserve once every 4-6 months.
The salt reserve contains a special filter for the treatment of air saline, obtained by a controlled recrystallization technology with the use of specially selected food gema salt.
Quantity
1