---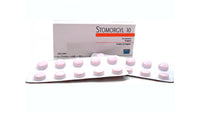 Stomorgyl - 20 tablets based on spiramycin and metronidazole to combat buco-dental infections in dogs and cats

Composition:

Each tablet contains:

Spiramycin base ............................................................... 750,000 I.U.
Metronidazole.................................................... 125 mg
Excipient q.s. ................................................ 1 tablet
Pharmacological properties:

Stomorgyl is a combination of two antibiotics: spiramycin and metronidazole.

Spiramycin is a bacteriostatic that belongs to the macrolide family. It is active against a wide range of Gram-positive bacteria (such as Mycoplasma), as well as against a narrower range of Gram-negative bacteria.Like other microlides, spiramycin inhibits protein synthesis and is fixed on bacterial ribosomes, thus leading to an inhibition of protein synthesis at the bacterial level.
Metronidazole is active against Gram negative and Gram-positive anaerobic germs (Bacteroides, Fusobacterium)
Periodontal diseases are of primary importance in dogs. They are associated with the appearance of dental tartar which is the right environment for the development of aerobic and anaerobic microorganisms.
Studies have revealed the predominance of Streptococci, Pasteurella multocida, Staphylococci and anaerobic bacteria at the level of oral infections in carnivores. Also, spirochetes and fusiforms are often present in animals with oral infections.
The association metronidazole-spiramycin has a complementary spectrum, all germs recognized as pathogens are inhibited either by one or the other active ingredient.
Pharmacodynamic features :

After the oral administration, at 2-4 hours after administration, it was observed the existence of a high concentration of spiramycin in plasma and a high concentration of spiramycin in saliva for 4-8 hours after the administration of the product, a concentration three times higher than that detected in plasma.
The high concentration of metronidazole was detected one hour after administration in saliva at the same level as that in plasma.
The two active ingredients reach the oral cavity in a sufficient amount that inhibits the activity of the germs responsible for the pathological conditions in the area.
Clinical particularities

Species to which it is used: dogs and cats
Instructions for use:

Infections caused by aerobic and anaerobic bacteria, especially infections of the oral cavity: stomatitis, gingivitis, periodontal diseases, pyorrhoea, halitosis.Contraindications:

Known hypersensitivity to one of the two ingredients.
Adverse Effects:

weren't noticed.
Special precautions:

this is not the case.
Use during pregnancy and lactation:

Studies on laboratory species have not revealed any teratogenic or embryotoxic effects.
There is no prohibition for the administration of the product during pregnancy or lactation.
Interactions with other drugs:

no interactions were discovered.
Posology and administration:

The tablets are administered orally, the recommended dose is 75000 IU of spiramycin and 12.5 mg of metronidazole per kg, body weight, every day.

STOMORGYL 2 one tablet per 2 kg body weight, per day, for 5 to 10 days.
STOMORGYL 10 one tablet per 10 kg of body weight, per day, for 5 to 10 days.
Overdose:

The daily, oral treatment with STOMORGYL did not cause any toxic effect in dogs treated with a dose 5 times higher than recommended, for a period longer than 3 times than recommended.
Waiting period:

it does not apply, as it is indicated for use in pets.
Special precautions recommended for the person administering the treatment:

Keep out of reach of children.
Wash hands after use.
Shelf life:

36 months.