---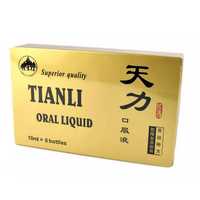 Food supplement
Tianli Oral Liquid box of 6 bottles x 10 ml natural plant extracts, validity date 2024, Sanye Intercom
Ingredients: Xanthium spinosum 1.9ml, Lycium barbarum 1.9ml, 
Polygonum multiflorum 1.9ml, 
Eleutherococcus senticosus 0.7ml
Tianli can help in: 
relieving fatigue, 
libido enhancement, weakness, ringing in the ears, insomnia, premature graying.
Method of administration: drink a 10ml bottle of Tianli 45-60 minutes before intercourse. One ampoule per day is recommended for health maintenance, and for treatment a 16-day cure. Do not mix with alcoholic or carbonated beverages, the effect will be diminished. Do not inject. Keep in a cool, dry place; caution in people with hypertension and heart disease; the administration of the product concomitantly with alcoholic beverages is not indicated; not recommended for teenagers; long-term administration is safe and without side effects. Because after the administration of this product the duration of sexual contact can be prolonged, repeating several times, a higher consumption of proteins and energy foods is recommended. Always consult a healthcare practitioner before taking any supplements. Keep out of the reach and sight of the children. 
Produced in EU by Sanye Intercom