---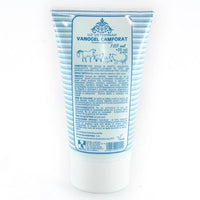 TARGET SPECIES:
Cattle, sheep, goats, horses, dogs, cats.

INDICATIONS
The formula in VANOGEL CAMFORAT has a role in relieving the pain caused by inflammatory processes. For this reason, the product is recommended as an adjunct in the treatment of arthritis, myositis, tendinitis, neuralgia, concussions, mastitis, false lactation, galactorrhea.
Due to the revulsive and anti-inflammatory properties of the components, a stimulation of blood circulation is ensured, ensuring a cold-warm sensation at the application site. It is beneficial in the specific treatment of breast diseases for a faster healing.
METHOD OF USE:
It is applied to clean and dry skin, to the affected area, vigorously massaging the region to favor the penetration of the gel. It is repeated 3-4 times a day until the disappearance of the painful symptomatology.

CONTRAINDICATIONS:
Do not use in case of hypersensitivity to the active substances or to any of the excipients. It is not applied to the conjunctival and genital mucous membranes. Do not apply to open wounds.

WAITING TIME:
This is not the case.