---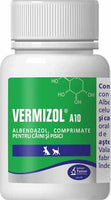 SPECIES TEST: Dogs, cats.

INDICATIONS: VERMIZOL A 10 - tablets is a broad-spectrum antihelmintic, active against gastrointestinal nematodes, larvae and adults (Toxocara canis, Toxocaris leonina, Ancylostoma spp., Uncinaria spp., Trichocephalus spp.), cestode (Dipylidium caninum) and trematode (Paragonimus kellicotti) in dogs and cats.

Composition:
1 tablet contains:
Active substances:
Albendazole................................................ 10 mg
Excipient q.s.ad................ 1 tablet

Contraindications:
Do not use to females during the first month of gestation.

ADVERSE REACTIONS:
They didn't report it. If you notice any serious reactions or other effects not mentioned in this leaflet, please inform your veterinarian.

POSOLOGY FOR EVERY SPECIA, CALE (WAYS) OF ADMINISTRATION AND MODE OF ADMINISTRATION:
VERMIZOL A 10 is given per bone in the following doses, depending on the type of parasite:
– 10 mg albendazole/kg body weight/day, (1 tablet/kg g.c./day) in all gastrointestinal helminthosis (cestodoses and nematodoses), for 2 consecutive days;
– 25 mg albendazole/kg body weight/day, (2 1/2 tablets/kg g.c./day) in tricocephalosis for 2 consecutive days.

RECOMMENDATIONS ON CORRECT ADMINISTRATION:
Follow the recommended dosages. In order to ensure a correct dosage, body weight should be determined as precisely as possible.

WAITING TIME:
That's not the case.