---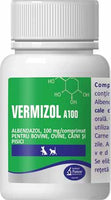 SPECIES TEST: Cattle, sheep, dogs, cats.

INDICATIONS: VERMIZOL A 100 is recommended for the treatment of the following endoparasitosis:
In bovine animals and sheep:
– Gastrointestinal nematodes: Haemonchus spp., Ostertagia spp., Trichostrongylus spp., Bunostomum
spp., Cooperia spp., Nematodirus spp., Chabertia spp., Oesophagostomum spp.
– Pulmonary nematodes: Dictyocaulus spp., Protostrongylus spp., Müllerius spp.
– Cestode: Moniezia spp.
– Adult trematode: Fasciola spp., Dicocoelium spp., Paramphistomum spp.
In dogs and cats:
– Gastrointestinal nematodes: Toxocara canis, Toxocara cati, Toxascaris leonina, Ancylostoma spp.,
Uncinasia spp., Trichocephalus spp.,
– Cestode: Dipylidium caninum.

Composition:
1 tablet contains:
Active substance:
Albendazole.................................... 100 mg
Excipient: Microcrystalline cellulose q.s.ad................................ 425 mg

Contraindications:
Do not use in case of hypersensitivity to the active substance or any of the excipients.

ADVERSE REACTIONS:
They didn't report it. If you notice any serious reactions or other effects not mentioned in this leaflet, please inform your veterinarian.

POSOLOGY FOR EVERY SPECIA, CALE (WAYS) OF ADMINISTRATION AND MODE OF ADMINISTRATION:
VERMIZOL A 100 is given per bone in the following doses:
- cattle and sheep: 1 tablet/10 kg body weight/day for 2 consecutive days.
- dogs and cats: 1 tablet/10 kg body weight/day for 2 consecutive days.
In case of re-infestation, seek advice from your veterinarian regarding the frequency of administration of the product and the need to repeat treatment.

RECOMMENDATIONS ON CORRECT ADMINISTRATION:
In order to ensure that a correct dose is given, the body weight of the animals should be determined as precisely as possible.

WAITING TIME:
Meat and organs: 28 days.
Milk: 7 days.