---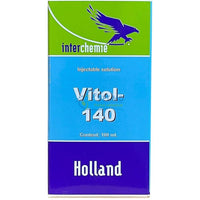 SPECIES TEST: Horses, cattle, sheep, goats, soot, breeding rabbits, dogs,
Cats.

INDICATIONS: The product can be used in animal support therapy
convalescent or with disorders of mineral, lipid metabolism
and carbohydrate. In combination with other pharmaceuticals, it is possible to use
in the prevention and control of infectious and parasitic diseases.
The product can be used as a growth stimulator as well as for
improving the prolificity of the queen herds.

Composition:
1 ml injectable solution contains:
Active substates:
Vitamin A (Retinol palmitate).......100,000 U.I.
Vitamin D3 (Colecalciferol)............ 10,000 U.I.
Vitamin E (α-Tocopheryl acetate)............... 50 U.I.
Excipients:
Benzyl alcohol...............................................
Phenol................

Contraindications
Do not take in case of hypersensitivity to
or any of the excipients.

ADVERSE REACTIONS
They didn't report it. If you notice serious reactions or other effects
not mentioned in this prospectus, please inform the
Veterinarian.

MODE OF ADMINISTRATION
The product is administered strictly intramuscularly or
subcutaneous, depending on body weight, in the following
Doses:
Horses, cattle: 10 – 12,5 ml/animal
Calves, foals, pigs: 2 – 5 ml/animal
Swine youth: 2 – 4 ml/animal
Sheep, goats: 1,5 – 2,5 ml/animal
Lambs, yeas, infant piglets, breeding rabbits: 0,5 – 1 ml/animal
Dogs, cats: 1 – 2 ml/animal.
If necessary, doses may be repeated after 3 weeks.

WAITING TIME
Meat and organs: zero days. Milk: zero days.